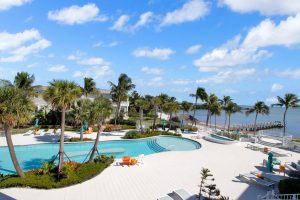 Upper Keys Vacation Rentals
From Key Largo to Marathon, the Upper Keys are a popular refuge for travelers. The islands of the Upper and Middle Keys consist of limestone and form a long narrow arc. This unique configuration derives from an ancient tidal-bar system where tidal channels cut through a submerged oolitic deposit. Visitors will discover that these bars are still exposed on the islands and that the channels between the bars separate the islands.
Along with a fascinating history, the Upper Florida Keys has a lot to offer. Each year, millions are drawn to the Keys due to its laidback town vibe, beautiful blue-green water, incredible seafood options, and awe-inspiring sunrises. Villages in the Upper Keys, such as Islamorada, offer plenty of things to do and see, such as museums, state parks, nature conservatories, and brewing companies. The Upper Keys is also a stunning location for weddings and honeymoons.
While staying in the Upper Keys, consider a luxury vacation rental that provides direct access to the beach and ocean. At Island Villa Properties, you'll find a wide variety of beachfront, oceanfront, and seaside luxury vacation rentals.