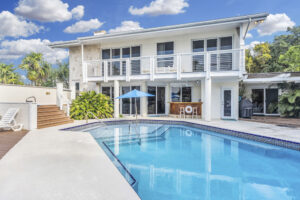 Luxury Florida Beachfront Vacation Rentals in the Keys
Experience the bliss of island living when you vacation in the Florida Keys. Islamorada is one of the most popular Keys destinations, situated between the Florida Strait and Everglades National Park. The incorporated village in Monroe County is made up of six islands, including Matecumbe Key, Lower Matecumbe Key, Upper Matecumbe Key, Windley Key, and Plantation Key.
Islamorada offers a unique vacation experience unlike anywhere else in the world. The laidback atmosphere, coupled with the slower pace, makes the charming village a quiet and relaxing place to stay.
The Florida Keys are known for their breathtaking scenery and Islamorada is no exception. From the lush green national parks to the white sand beaches, beauty is in every direction you turn.
Of course, there's much more to love about vacationing in Islamorada. The people are friendly and the businesses are highly accommodating. You'll also find some of the most delicious foods you've ever had. The village is known for its locally-owned restaurants that serve up fresh seafood, sophisticated New American dishes, sweet desserts, and craft beers.
Days of sun and adventure await you in the tropical paradise of Islamorada. Here are a few recommendations of where to stay, what to do, and places to visit while vacationing in the Florida Keys.